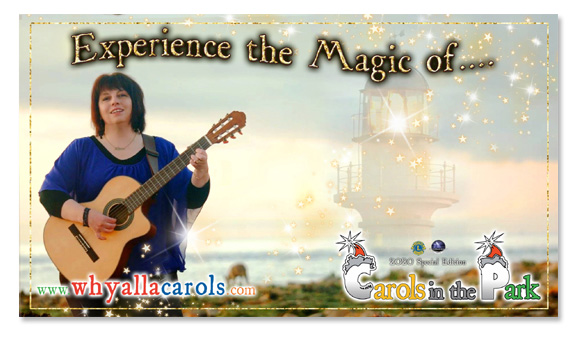 Our amazing Whyalla LIONS "Carols In The Park"
2020 SPECIAL EDITION launched at....

7.30pm (South Australian time)
SUNDAY 13th DECEMBER

...for everyone to see!

September-December our "Carols" crew worked tirelessly to
bring this special presentation to you and we hope everyone will take
enormous emotion, pride & magic from what we've done!

Watch "CAROLS" online HERE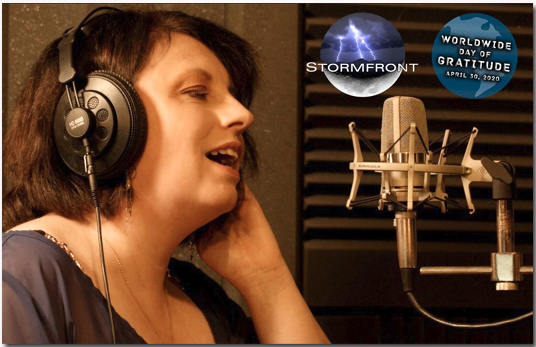 Stormfront Productions is proud to support YOUnison's #LeanOnUs mission using
MUSIC to show support and gratitude during the COVID-19 pandemic
.
You can view our version of LEAN ON ME recorded to say THANK YOU to everyone around the world
putting their lives on the line to keep us safe.
See it on YouTube HERE

Mark Tempany and Alison Hams were proud to accompany
Whyalla Recording Scholarship Winner
Jaylee Daniels to Sydney for her appearance at the
WOOLWORTHS SONGWRITERS FESTIVAL in February 2020.

They are pictured here onstage at the legendary MAX WATTS Venue in Sydney's Entertainment Quarter.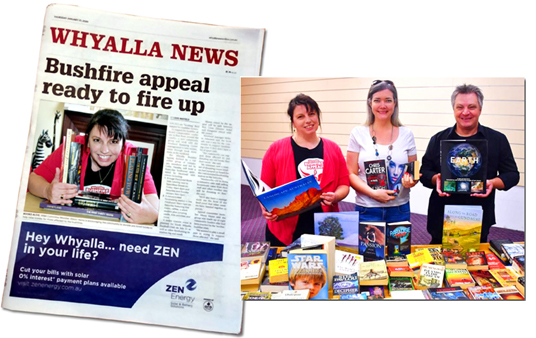 Mark Tempany & Alison Hams - founding members of the Whyalla Bushfire Appeal
with Westland Shopping Centre Manager Melissa Adamson.


The #WBA Australia Day Weekend at the Centre featured Live Music, radio broadcasts, raffles and a Giant Pre-Loved Book Sale - raising over $10,000 for
communities and ecologies affected by Australia's devastating 2019/20 Bushfires.


Photos courtesy Whyalla News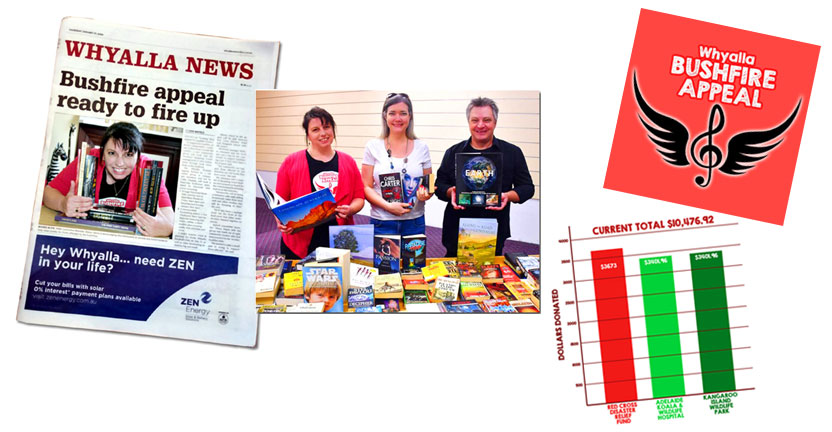 Walking the Black Carpet in Brisbane at the
Australian Women In Music Awards

**BREAKING NEWS **
4/11/2019
Alison Hams has been named a TOP 5 FINALIST in the SA Woman Awards.

The Awards are designed to recognise and celebrate
the contributions of women in business across South Australia.


**BREAKING NEWS **
22/10/2019
STORMFRONT PRODUCTIONS has once again been named a FINALIST in the 2019 South Australian Music Awards.

The TOP 5 Finalist nomination for BEST MANAGER comes hot on the heels of their successful year releasing and supporting THREE debut original singles for their
Whyalla Recording Scholarship winners
Jaylee Daniels, Shakira Lea and Liberty Tuohy
as well as a soon-to-be-released follow up for inaugural winner BREEZE Millard.

STORMFRONT PRODUCTIONS are stageshow managers for Whyalla's LIONS GFG Alliance "Carols In The Park each year, as well as of course managing the on-stage careers of Mark Tempany & Alison Hams


**BREAKING NEWS **
12/09/2019
Alison Hams has been named a Top 3 Finalist in the 2019
"Australian Women In Music Awards"
for the Humanitarian Award - recognising an individual who has made a significant and lasting contribution to the field of music education, and/or assisting female artists working in remote and/or regional communities.

2019 FINALISTS: Alison Hams, Dami Im, Lindy Morrison OAM
See the AWMA Website announcement here!

Read the Music Network Press release here!
Read the Industry Observer Press release here!
Read the Whyalla News article here!
Read the MUSIC AUSTRALIA article here!
Watch the Seven Spencer Gulf News report here!
Read the post-Awards Whyalla News article here!

By Louis Mayfield - June 19th 2019
The Rotary Club of Whyalla have made an investment in Whyalla's musical future, by providing a generous donation to the Whyalla Recording Scholarship (WRS).

The $1000 donation was made during Rotary's Changeover Dinner on Saturday at the Westland Hotel, where President-elect Keith Sichler was handed the reins from outgoing President Perry Eden.

Distinguished guests who attended the special evening included Member for Giles Eddie Hughes and District Governor David Egan.

Mr Sichler addressed the meeting about his plans for the club going into the future.

Entertainment on the evening was provided by Whyalla Recording Scholarship winners Jaylee Daniels and Shakira Lea who impressed the audience with their award-winning talent.

Mark Tempany and Alison Hams from Stormfront Productions welcomed the donation and said it helped ensure the WRS could continue into the future.

"This year in particular we have three winners who still have music videos to do in the next three or four months, so this donation is going to be a massive helping hand," Mark said.

"It's great to see the development of all the kids who have gone through this process...that's really what makes this worthwhile."

Mr Sichler said the Recording Scholarship fit with Rotary's aim of fostering young talent and encouraging young people to fulfill their dreams.

"Shakira and Jaylee were quite amazing...the applause that they got just went on and on and on, they were really oustanding," he said.

Mr Sichler has been involved in Rotary for the past 30 years and locally since 1996. He says the role of president is 'always exciting'.

"It's always an exciting role because even as a rotarian you're still part of the action. As President you have that shade more influence on what happens," he said.

"You've got responsibilities to the public and serve the community."

By Louis Mayfield - April 23rd 2019
It was a special night for some of the region's most promising musicians on Easter Monday.


Whyalla Recording Scholarship (WRS) winners Liberty Tuohy, Shakira Lea Fauser and runner-up Jaylee Daniels were joined by past winner Breeze Millard and JJ Payne to launch their debut singles at the Saint James Hall.


The trio performed a showcase set featuring their newly-released songs in front of a crowd of family and friends and were presented with a framed commemorative copy of their CD by Mayor Clare McLaughlin.


Breeze sang her hit "I Have My Own Life" and was accompanied by her boyfriend, Josh Paton, on piano for a performance of her new single "Holding On".


The duo are currently working in-studio with Stormfront Productions to release the song later in the year.


Stormfront Productions' Alison Hams said all the musicians involved in the WRS had grown significantly since their first audition.


"We've seen a lot of growth from when their songs were in the demo stage to what they performed on stage on Monday," she said.


"Young Jaylee has gone from a country girl to an absolute artist and Breeze has continued to take her love of music and combine it with what she learnt during the WRS.


"Her new song is so strong, it will be exciting to get it out there."


Ms Hams said the scholarship helps young musicians learn how to be artists and makes them aware of the opportunities out there in the music industry.


"The opportunities might not fall their way, but if you don't try you'll never know," she said.


"When these girls auditioned they said music would always be a big part of their life. They're loving having their original music out there and we're very proud of them."


The Whyalla Recording Scholarship is a 100 per cent philanthropic initiative for young regional original musicians, and is fully sponsored by Mark Tempany and Alison Hams.


By Louis Mayfield - October 12th 2018
Stormfront Productions, which has provided a crucial mentoring service for budding musicians in Whyalla, have made it to the Top 4 in the small business category of the South Australian Community Achievement Awards.


The business is comprised of experienced musicians Alison Hams and Mark Tempany, who have regularly been involved in the community by providing a tutoring service and hosting concerts such as the JAMM 4 Genes.


Stormfront aims to go beyond their duty as a business by providing programs like the Whyalla Recording Scholarship, which creates an important pathway for budding musicians to pursue their goals.


"This is what we love to do for the community...we try to give as much back as possible," Ms Hams said.


Mr Tempany said it was often hard for 'arts' businesses to break through in competitions, because they are often not recognised as a business.


"The fact that Stormfront is being taken seriously and compared with other businesses is fantastic," he said.


Despite being a troubling time for the city, Mr Tempany believes the Arrium crisis helped shine a light on Whyalla's small businesses.


"It's alerted a lot of people in Adelaide to the challenges everybody who operates here has faced over the last two or three years. That's made us look very strong and inspiring," he said.


When not hosting their own events, Stormfront are regularly involved in supplying musical equipment or acts for community events such as Carols In The Park and the ANZAC Eve Vigil.


The duo also regularly have individual tutor sessions with students at their private studio. They have mentored some students right through high school.


"We've had some students who have been with us for 10 or 11 years and are in Adelaide in uni now," Ms Hams said.


"We are available to people of all ages and all abilities. I've tutored students with special needs...we've taught a student as young as four and a man as old as 89."


Those young people tutored by Stormfront Productions often go on to do great things, including Arno Bay musician Dayna Duncan who was recently inducted into the Brand SA Hall of Fame Youth Category.


Dayna, who is now studying to become a doctor, recently emailed Stormfront praising them for their guidance over the years.


"She said she owes a lot of who she is today to the self-worth she developed through doing the community gigs with us," Ms Hams said.


Stormfront Productions were also inducted into the Brand South Australia Hall of Fame.


The winners of the South Australian Community Achievement Awards will be announced at an Awards Gala Presentation Dinner on Friday, November 2 at the Hilton Adelaide.


By Louis Mayfield - November 13th 2017
Whyalla singer, songwriter and recording artist Alison Hams has been named a State Finalist in the category of Sustained Contribution by an Individual at the prestigious 2017 RUBY Awards to be held in Adelaide on December 2.


The RUBY Awards are one of the most important ways in which Arts South Australia acknowledges and celebrates the contribution of the arts to the cultural life of South Australia.


Alison has been appearing on stage since the age of 3 – among many other achievements she danced at State and National Calisthenics for many years before turning to fulltime music.


Alison's career has seen her appear on national television, tour across Australia, have a song used in a feature film and perform regularly at Country Music festivals including Tamworth, Mildura, Bay Of Islands (NZ) and in Nashville, Tennessee.


With award wins at the SAMI's (South Australian Music Industry Award), the Australian Independent Country Music Awards in Tamworth, and the UK Songwriting Contest - both she and husband Mark Tempany are inducted into the SA Country Music Hands Of Fame, and the Brand SA Hall Of Fame.


Since 2004 her Stormfront Productions has offered audio & visual recording, songwriting and performance workshops across the state, a hugely popular Music Tuition service, graphic art, website design and stageshow production for events such as LIONS GFG Alliance "Carols On The Park" (staging free in Civic Park on Sunday December 10 – visit www.whyallacarols.com for more information).


In 2017 Alison and Stormfront have pioneered the hugely successful "Whyalla Recording Scholarship" with inaugural Winner BREEZE Millard having phenomenal success with her single "I Have My Own Life" charting internationally, and her music video receiving over 7,200 views since it's release in June.


As an Official satellite event as part of Easter's inaugural uneARTh Festival (also up for a Ruby) Stormfront also fully sponsored and staged the unique "UneARTh The Library" concert to launch BREEZE's song.


"Producing Breeze's single and music video right here in Whyalla has been an exciting addition to our year," Ms Hams said.


"We were thrilled to see the successes it continues to register including as part of our studio being a State Finalist against some major Adelaide competition for a South Australian Music (SAM) Award this month."


Stormfront's 11th Annual "Jamm for Genes" charity concert has also become the highest J4G Fundraiser in SA this year with the event now having donated well over $6000 since its inception.


Being a statewide RUBY Award finalist is apt for an exciting and varied career so far.


January will be the 20th anniversary of Alison's debut single release and Alison is now very proud to tutor others, believing everyone should have access to music regardless of age or ability.


"We've done an awful lot so far, and continue to see the ups and downs of the music industry on a daily basis," she said.


"We're extremely proud of the many young people we've helped train and develop – some for over 10 years. When music is your life's work you hope the young people you now mentor will also dream big and aim to be the very best musicians – and people – that they can be."


Whyalla's "STORMFRONT PRODUCTIONS"
has been named a FINALIST in the prestigious
2017 SOUTH AUSTRALIAN MUSIC AWARDS
in the category of "BEST STUDIO".

The SAM Awards exist to recognise, celebrate and
promote excellence in South Australian music.

Owned and operated by Mark Tempany and Alison Hams
Stormfront's STUDIO A and STUDIO B facilities combine with a
Mobile Recording Unit to provide a powerful & widely available professional
service to our region and beyond, regularly coordinating
audio & video projects for international release.

CHECK OUT our latest project for
WHYALLA RECORDING SCHOLARSHIP WINNER
17 year old BREEZE MILLARD at www.breezemillard.com


Join Mark Tempany, Alison Hams and special guests as they help launch Whyalla Recording Scholarship winner BREEZE Millard's debut single "I Have My Own Life" in a unique concert experience!

Easter SUNDAY April 16th 2017
from 7.30pm
at Whyalla Public Library

Mark Tempany & Alison Hams were part of the all-star cast of
COUNTRY GOLD at Her Majesty's Theatre on
Saturday Night, August 27th, 2016


Presented by Mario Maiolo Promotions the "full house"
(many of whom travelled from far and wide) enjoyed a star-studded concert of
Country hits & classics and clapped and cheered their way through the night!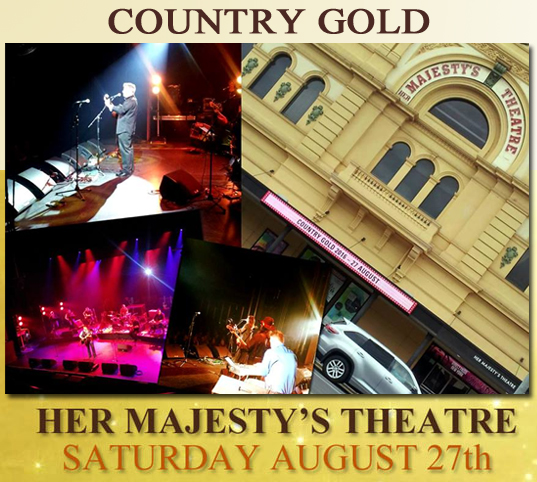 By LOUIS MAYFIELD August 2nd 2016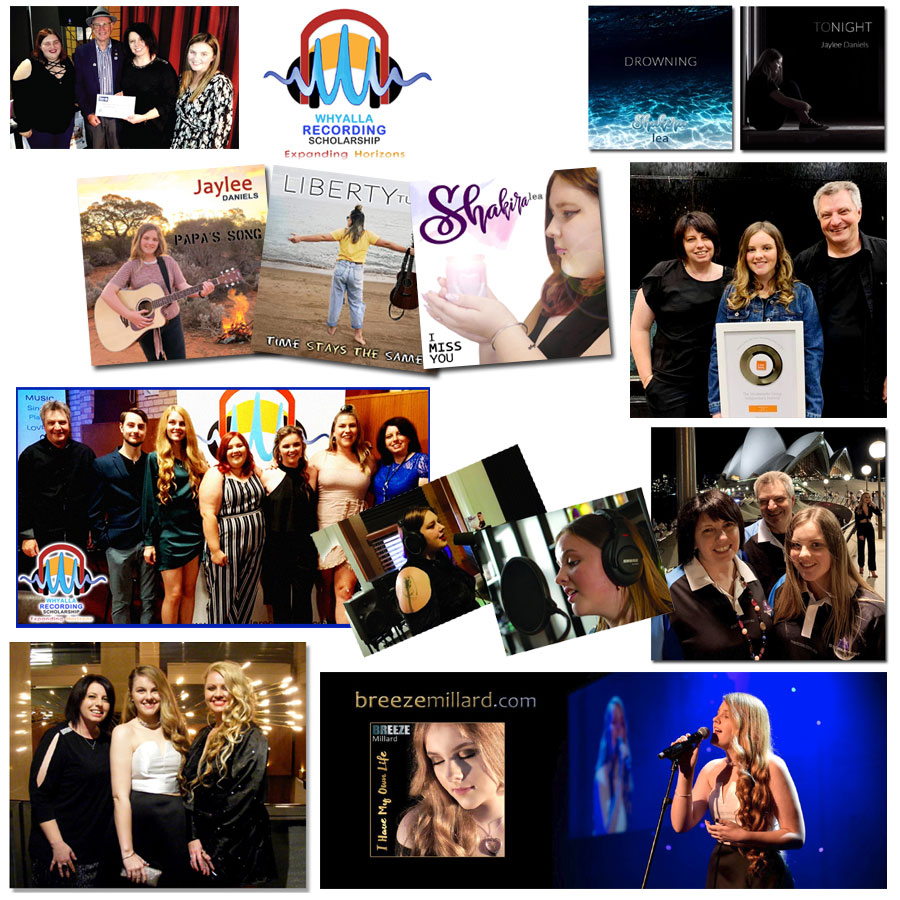 Local music talent will now have an opportunity to further their professional careers thanks to a new joint initiative by Stormfront Productions and the Whyalla City Council.

The inaugural Whyalla Recording Scholarship was launched on Monday, which allows young singers, songwriters and musicians to audition for the chance to record in a local professional recording studio.

Stormfront Productions' Alison Hams said the initiative was aimed at developing a true Original Artist and getting them and their music out to the greater world".

Acting Council Chief Executive Officer Migelle Hiscock said the council were "very keen" to be supportive of the scholarship, which had been identified as a positive initiative by the Whyalla Youth Council.

Whyalla residents aged 12 to 19 can audition for a panel of judges who will award the Scholarship to a Winner, and offer constructive advice to all other Entrants. "The Winner has six months to record their song, then the next six months will be a mentorship of music management for them and their Single" Ms Hams said.

Entry forms can be found at www.whyallarecording.com
– entries close on September 9th 2016.

By KAYLEIGH BRUCE Oct. 14, 2015
Whyalla singer-songwriters Alison Hams and Mark Tempany have been recognised for their years of service to the region, being inducted into the Brand South Australia Regional Awards Hall of Fame.

The couple's music service Stormfront Productions was inducted last Wednesday night at the South Australian Regional Awards for the Whyalla and Eyre Peninsula region.

The awards were held at the Westland Hotel Motel with about 200 guests celebrating the achievements of individuals, groups and businesses in the region.

Stormfront Productions has been previously recognised in the awards arts category in 2006 and 2010 - the business picking up its third award for service to the arts and creative industries at last week's awards ceremony to earn a place in the Hall of Fame.

Ms Hams said it was interesting to see that arts award category changed this year to incorporate arts and creative industries to recognise viable arts businesses. "We're very proud that the arts cannot only be recognised as creative and sometimes just as a hobby but can also be seen as a sustainable full-time business and as far as Stormfront Productions is concerned, offering a valuable service to the region," she said.

Ms Hams said Stormfront Productions has had a long history with the awards and she and Mr Tempany strongly supported what the South Australian Regional Awards were all about. "We really support Brand SA and their promotion of the regions and for them to have these awards to acknowledge people in country areas that are thinking big is great".

Mr Tempany said it was an incredible honour to be inducted into the Hall of Fame and be provided recognition as a business that might not otherwise "fit in".

"These guys have a really broad view of the regions in everything, not just the arts," Mr Tempany said. "We love that we can use what we can do as musicians to give back - and it's so cool that they're recognising the things that sometimes slip through the cracks."


A number of Whyalla businesses and community organisations were winners on the night with Whyalla Aged Care picking up the Telstra Large Business Award for its professional service in meeting the increasing needs of an ageing population in the region. Bedford Group Eyre Peninsula took out the Royal Agricultural & Horticultural Education Foundation of South Australia Community Group Award for its valuable services in both the Whyalla and Port Lincoln communities.

Rounding out the winners was UniSA's Department for Rural Health Sport 4 Rural Health initiative, picking up the ReturnToWorkSA Award.



By Kate Bilney - Thursday January 22nd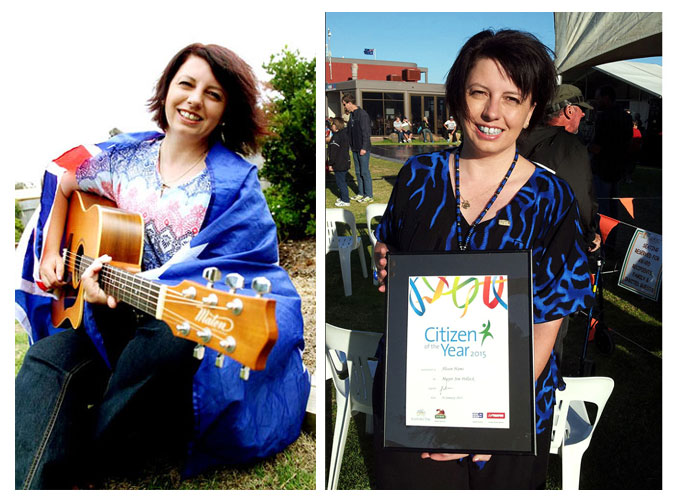 Whyalla's own country music legend has been named this year's Whyalla Australia Day Citizen of the Year.
Alison Hams is a well-known figure around Whyalla, having lived in the city for most of her life, much of which has been spent giving back to the community she loves so dearly.
Alison has dedicated her life to music by teaching others the art as well as using it to enhance community events and raise funds for deserving recipients.
Together with her husband, Mark Tempany, Alison runs Stormfront Music Tutoring service, and last year celebrated 10 years of running the service.
"2014 was a very full and very fulfilling year for both my husband Mark and I," Alison said.
"We celebrated our 10 years of Stormfront Music Tutoring service in Whyalla, performed at the Brand South Australia Awards in Port Lincoln and donated a number of charity performances throughout the year.
"We also sponsored a number of recording projects for young and emerging musicians in Whyalla and on top of that I managed to complete a Diploma of Music in just four months."
Alison said she felt lucky to be able to turn what she loves into a career and use that career to give back to the community.
"To be able to do what I love all day, every day is pretty special," Alison said.
"Being self-employed isn't easy - but I believe in going for your goals and giving it 110 per cent."
Alison said she enjoyed being able to use her musical abilities to give back to the community.
"I love that I am able to use what I can do as a singer to give back," she said.
Alison is a strong advocate for Juvenile Diabetes Research Foundation (JDRF) and in 2014 was named the JDRF SA Volunteer of the Year for her work in raising funds and awareness for the cause. She also hosted Whyalla's eighth annual Jamm for Genes, raising funds for the Children's Medical Research Institute. Alison also won the 21st Australian Country Music Community Service Award at the 2014 Tamworth Country Music Festival.
Despite all this, Alison said she didn't do what she did to receive awards; knowing she was making a difference in the community was reward enough. "I never expect to receive awards or accolades, but it is nice to be recognised in this way," she said.
"I am a strong believer in giving back to the community and hopefully by being named Whyalla Citizen of the Year, I can inspire other people to do the same. "If you have a talent why not use it to help someone else?"
"Being based in a regional centre like Whyalla shouldn't stop anyone from achieving their best - in fact it should make you work even harder to make whatever difference you can."
This isn't the first time Alison's contributions have been recognised locally, as she was named Whyalla's Junior Citizen of the Year in 1999.
Alison said she would continue to work hard to assist others, particularly younger people, in developing their skills to find a place in the music world. "I love it when we get an email from someone asking for advice on song writing or the music industry," Alison said. "Music to me is a very powerful thing, and with the advent of social media also globally engaging.
"I think that's why Mark and I dedicate to our music tutoring with such passion - to help the next generation of musicians find the meaning and emotion in their singing or playing."

10th Anniversary "CONCERT NIGHT" 2014
Saturday 15th November 2014 saw Stormfront Productions proudly present its
10th Anniversary Concert Night to a bumper crowd of over 250 at Whyalla's Eyre High Auditorium.


The 2-hour show - celebrating a decade of Stormfront's Music Tuition Service operating in Whyalla - featured 52 performers ranging in age from 4 to adult, and a wide cross-section of soloists, groups, duo's, instrumental and band pieces.


Brand South Australia Awards
On Wednesday 1st of October 2014, Mark Tempany & Alison Hams
performed at the Brand South Australia Regional Awards Night.

The South Australian Regional Awards are held annually to celebrate and showcase
the achievements of individuals, groups and organisations that have made significant contributions to regional South Australia
.
The Whyalla & Eyre Peninsula Awards were held at the prestigious
Port Lincoln Hotel with an elegantly presented gourmet two-course meal,
an array of local wine, a selection of South Australian beer and of course Mark & Alison as entertainment.



Mark & Alison soundcheck, walk the red carpet, and perform to a full house at the Awards

By LION Terry Hill - Tamworth, NSW January 2014

Pictured are Mary Donnelly (National Manager) & Nermeen Yacoub - Events & Community Fundraising at CMRI in Sydney receiving the cheque for $500.
In 1994 the LIONS Club of Tamworth Peel Valley Inc. instigated an award to honour people involved in Country Music who have used their musical talents to give community service in a voluntary capacity.

In 2014 Mark Tempany and Alison Hams from Whyalla, South Australia were selected to receive the 21st Australian Country Music Community Service Award at the Tamworth Country Music Festival.

The Award will be presented by Peel Valley Lions Club president Mike Ham live on air on Tamworth Toyota Festival FM on Tuesday 21st January at 11.30am.

Mark and Alison, both accomplished artists in their own right, have given many years of service in co-ordinating and performing at Whyalla's Carols In The Park.

The pair raises money and donates performances for local events such as the Whyalla Tappers, Relay For Life, and aged care facilities as well as national charities J.D.R.F and the Children's Medical Research Institute.

They also mentor and encourage many young artists to embrace their musical talents through their successful Stormfront Music Tutoring service in Whyalla, and through workshops and talent quests at festivals all over Australia.

Mark and Alison will receive a distinctive trophy created by Tamworth renowned ceramic artist Fred Hillier and a cheque for $500 which they will donate to the Children's Medical Research Institute.


By Daine Hoffman - Thursday November 14th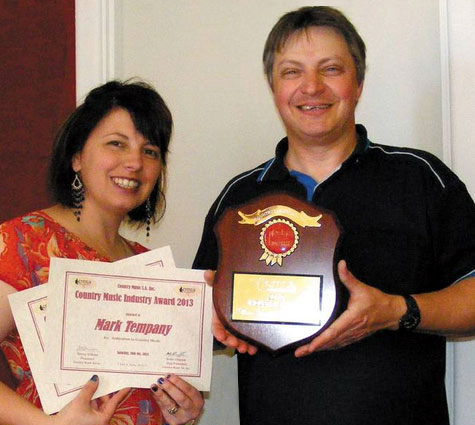 Local music icons Alison Hams and Mark Tempany have been awarded a prestigious Country Music SA Country Music Industry Award.

The award was presented at Country Music SA's Champion of Champions awards night.

However the pair was not able to attend the awards night as they had already committed to performing at the Whyalla Tappers charity concert.

Because of this the pair did not find out about the award until they were surprised on live radio.

Radio Adelaide DJ Tamara Wellman knew about the award and arranged the interview under false pretences, with the pair thinking they were going to discuss their project the "Jelly Baby Song".

"When Tamara began to tell us how she had attended the presentations the night before, we thought that was lovely, however we weren't quite sure how announcing all the winners during our interview was relevant, but it soon became apparent," Mr Tempany said.

"We are very honoured and dedicate the award to our family, friends and supporters who allow us to do what we do and love," Alison said.

The pair said they were surprised to have the award announced on live radio.

"Even though we knew it (the awards night) was on, it had kind of gone off our radar a little," the pair said.

"The radio interview was a really nice way for Country Music SA to announce it, and we were actually a bit speechless but very honoured nonetheless."

The pair said as the Christmas period comes around they were busy with a number of commitments for them and their students.

The biggest event for them will be "Carols In The Park".

They said they would love to release some new material in the future.

"The focus for 2013 was always our charity single"Jelly Baby Song", so now we would like to get into the studio and demo some more of our songwriting," the pair said.

"We have both released solo albums up to this point, so a collaboration of the two of us would definitely be a long term goal."

However Mr Tempany and Ms Hams said it was hard to find time for themselves, but agreed that they would not have it any other way.

"Whether we are teaching music, organising concerts, travelling to country music festivals or working in the studio, we feel that through music we can offer a little bit of joy and give back to the community, be that through teaching, performing or our charity work," they said.