27/9/23
ALISON WINS 2023 AWMA AWARD!!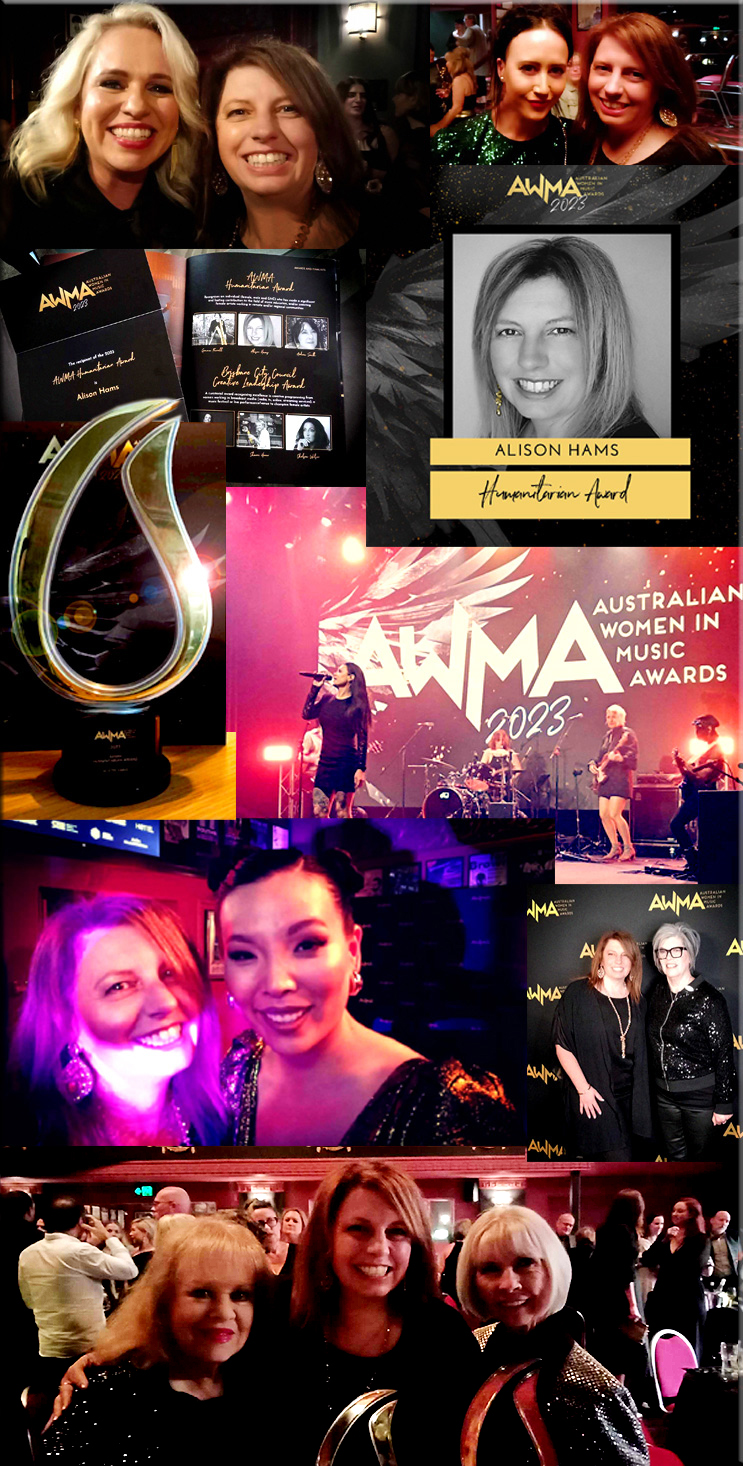 ABOVE Left to Right, Top to Bottom....
2023 AWMA ARTISTIC EXCELLENCE Award Nominee, Feature Artist &
Host of ABC "Saturday Night Country" Beccy Cole,
2023 AWMA MUSIC JOURNALIST Award Winner Jane Gazzo,
2023 AWMA INSPIRATION Award Winner & Feature Artist Vanessa Amorosi,
Feature Artist (and 2019 AWMA HUMANITARIAN AWARD Winner) Dami Im,
AWMA Founder Vicki Gordon,
Australian music royalty Little Patti and
2023 AWMA HONOUR ROLL Inductee Judy Stone.
Alison has WON the....
2023 AWMA Humanitarian Award
at a glitzy ceremony at Brisbane's
iconic Tivoli Theatre!

The Australian Women in Music Awards has
quickly become the Australian music Industry's
premier acknowledgement for any women, binary,
or gender non-specific participants across the
widest scope of activity on, and off-stage.

Alison was also Nominated as a Finalist for
the AWMA Humanitarian Award in 2019.

Judged by a panel of the Australia music industry's
most high profile and powerful people, Ali's
2023 WIN saw her Nominated alongside the simply
outstanding Gemma Farrell and Andrea Smith.

The 2023 AWMA Awards Ceremony showcases some of
the finest musical talent in the world, and
this year saw Feature performances from Dami Im, Beccy Cole
Vanessa Amorosi, Sarah McLeod and Vika & Linda.

Just some of the other Winners included
Kate Ceberano (2023 AWMA LIFETIME ACHIEVEMENT Winner),
2023 AWMA HONOUR ROLL Inductee Judy Stone and
2023 AWMA SONGWRITER Tones and I.

The legendary Renee Geyer was also posthumously
Inducted onto the AWMA HONOUR ROLL.

31/7/23
BROKEN GROUND Launches!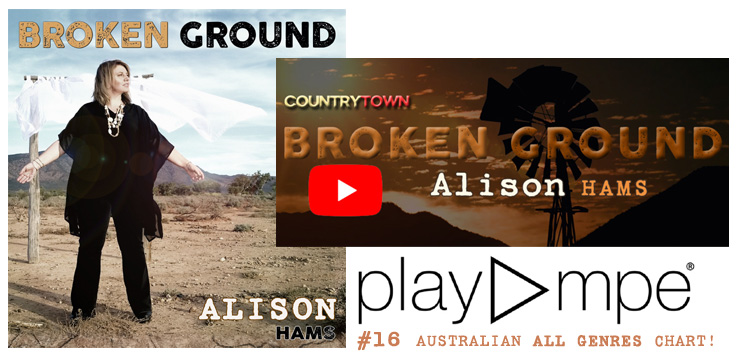 This week sees the launch of
Alison's new Single BROKEN GROUND
from her & Mark Tempany's 2023 album
OUT INTO THE BLUE!
And what a launch it's been....
....hitting #16 on the Play MPE All Genres Radio Chart -
Australia's premier "new music" radio chart and....
....seeing Australia's premier Online Country Music portal -
Countrytown Premiere BROKEN GROUND's magnificent
cinematic HD music video, filmed in Outback South Australia!
CHECK OUT "BROKEN GROUND" HERE!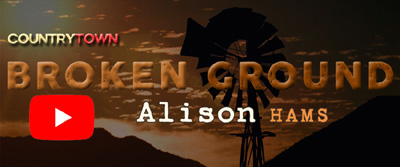 20/7/23
Alison Covers WHYALLA NEWS!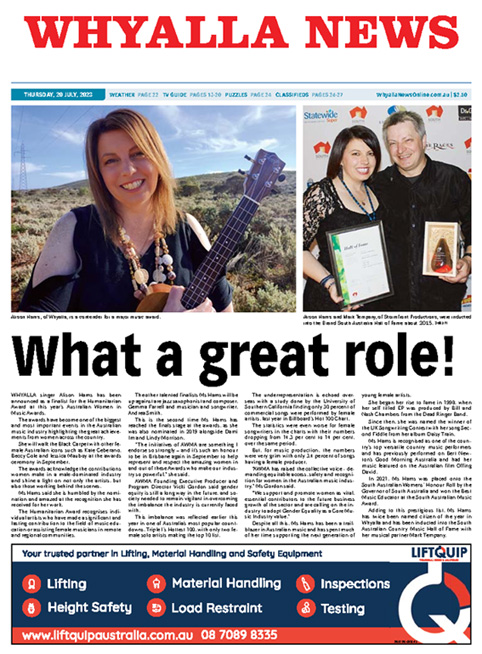 THANK YOU to Greg & Rachel at WHYALLA NEWS for your
amazing Front Cover coverage of Alison's AWMA Nomination this week!

18/7/23
Alison talks AWMA
on ABC Regional Radio!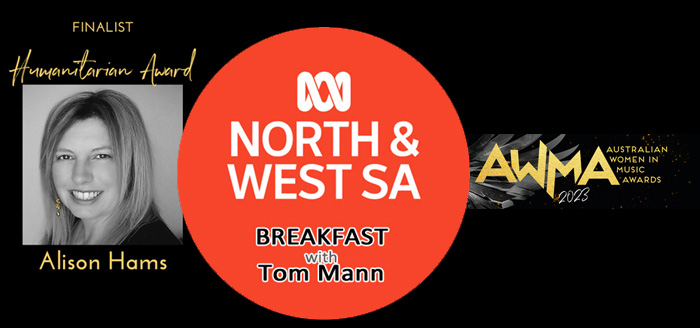 Alison caught up with Breakfast Presenter Tom Mann today on
Regional SA's ABC North & West to talk all things AWMA-related!
LISTEN IN to ALISON & TOM HERE!

17/7/23
Alison's AWMA Announcement
Headlines on COUNTRYTOWN!


17/7/23
Alison announced as 2023 AWMA Finalist!!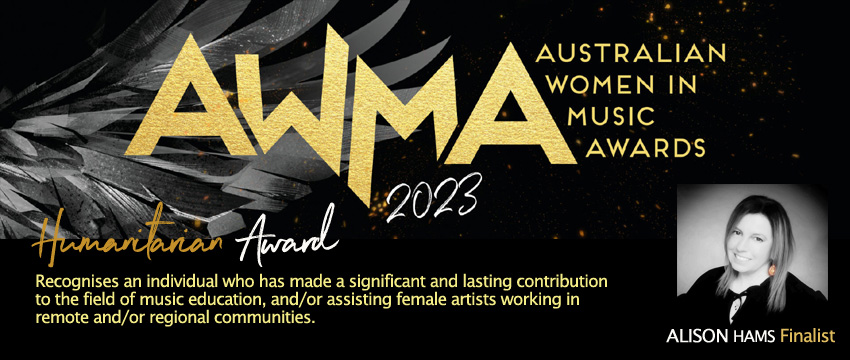 Alison has been announced as a Finalist for the
Humanitarian Award at the 2023 Australian Women In Music Awards.
The AWMA's highlight the central and outstanding role women play in the
Australian Music Industry & have quickly become the Industry's premier such recognition.
Alison was also an AWMA Humanitarian Award Finalist in 2019 –
Nominated then, as now, for her incredible work in the fields of
music philanthropy, music education, and especially taking music
to young people in Remote and Regional areas.
In 2019 the Award was won by Australian Pop Superstar Dami Im,
with the legendary Lindy Morrison OAM the other Finalist.
2023 sees Gemma Farrell & Andrea Smith as the
other simply amazing AWMA Humanitarian Award Finalists.
"I'm humbled and amazed at this recognition. The initiatives of AWMA are something I
endorse so strongly – and it's such an honour to be in Brisbane again in September to
help represent and respect the amazing women in and out of these Awards who
make our industry so powerful" said Alison.
Alison will be walking the Black Carpet with other 2023 AWMA Finalists
and performers including Kate Ceberano, Beccy Cole, Jessica Mauboy
and Vika & Linda at Brisbane's Tivoli Theatre on Wednesday 27th September.
The 2023 AWMA Awards will be broadcast Nationally
on ABC Television at a later date TBA!

Alison Hams & Mark Tempany
....have released their brilliant
BRAND NEW 2023 ALBUM:
"OUT INTO THE BLUE"

9/10/22

SUNDAY MAIL

The South Australian State Government's "New State Of Mind" campaign
shines a light on the "remarkable people who call SA home".

This 2-page feature of SA's high achievers included Stormfront Productions' own Alison Hams.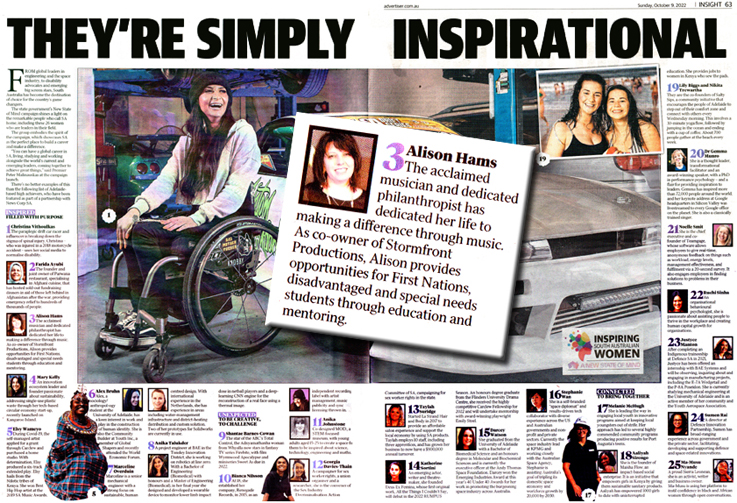 18/11/21

ALISON WINS
"BEST MUSIC EDUCATOR"
at the
2021 SOUTH AUSTRALIAN MUSIC AWARDS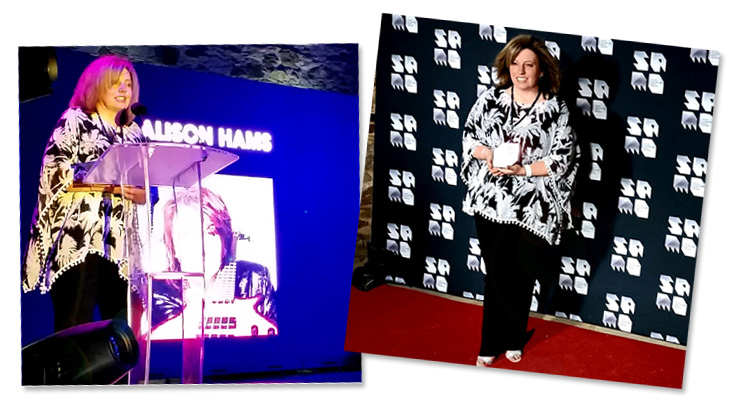 Judged by a panel of National Music Industry experts
the "SAMS" are South Australia's top professional Music Industry Awards.

Read the Whyalla News article HERE

See the Spencer Gulf Nightly News TV story HERE

Read the MAGIC FM article HERE

Hear the MAGIC FM Radio Interview on 23/11/21 HERE

Read the WHYALLA NEWS article "Alison's Double Honour" 23/11/21 HERE

Hear the ABC North & West/Eyre Peninsula Radio Interview on 25/11/21 HERE

Watch the Spencer Gulf 7 Nightly News TV Story on 29/11/21 HERE

Listen to MONDAY MIXTAPE ABC Radio feature on 13/12/21 HERE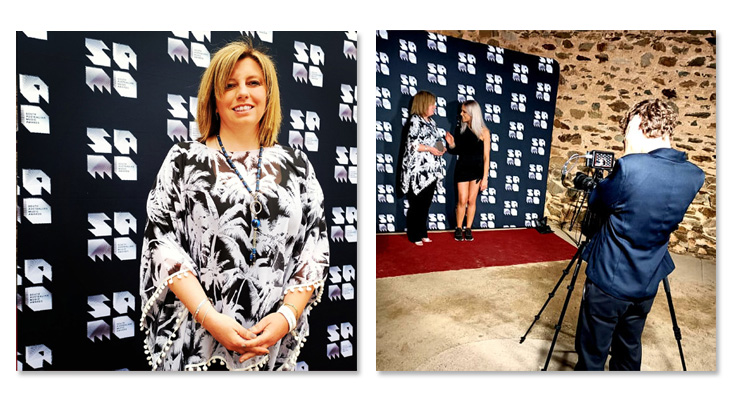 17/11/21
ALISON has been Inducted onto the
SOUTH AUSTRALIAN WOMEN'S HONOUR ROLL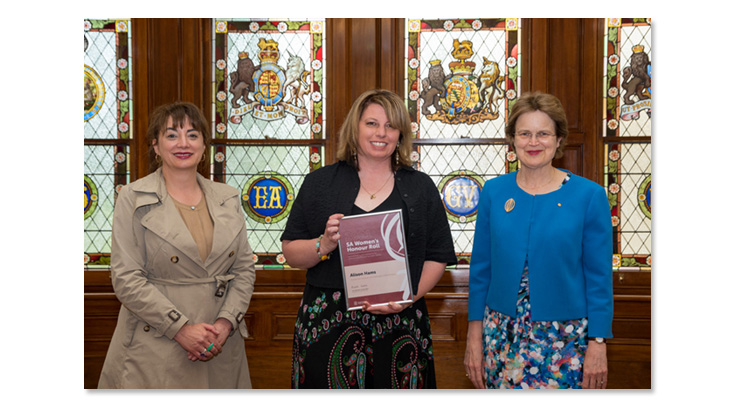 .....by South Australian Governor, Her Excellency the Honourable Frances Adamson AC
during a formal presentation held at Government House in Adelaide.

Every two years the SA Women's Honour Roll recognises in-perpetuity the vital contribution
women make to the South Australian community and showcases tireless volunteers,
quiet achievers, high profile role-models and inspiring women in their field.


24/10/21
Thanks to Samaritan College for entrusting me with the "Pharoah King" cameo role
in their production of Joseph and The Amazing Technicolour Dreamcoat!

What a blast!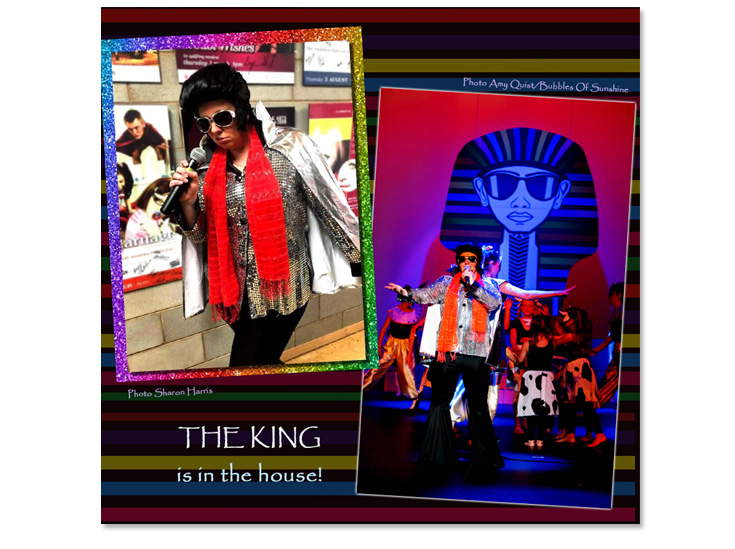 13/12/20
Our amazing "Carols In The Park"
2020 SPECIAL EDITION launched at....

7.30pm (South Australian time)
SUNDAY 13th DECEMBER 2020

...for the WORLD to see!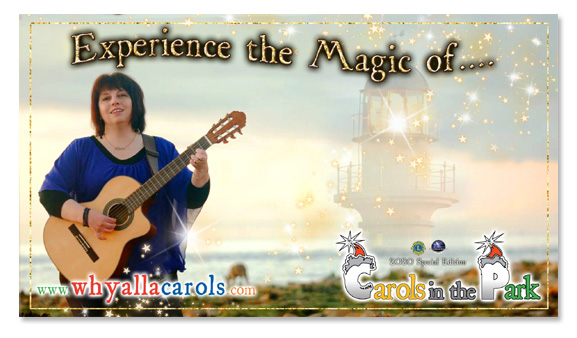 September thru December our "Carols" crew worked tirelessly
to bring this emotional and magical experience to you!


Experience an Outback Christmas like never before- it's memorable, it's inspiring!"

Watch "Carols In The Park" 2020 SPECIAL EDITION online HERE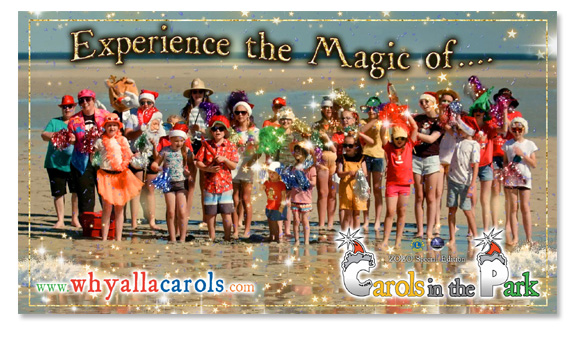 2020-2021 COVID
Our amazing young musicians made the transition to online lessons so much fun.

We're grateful for the extra support we've received throughout these uncertain times,
allowing us to share music & creativity with you all!

Read the Whyalla News article here!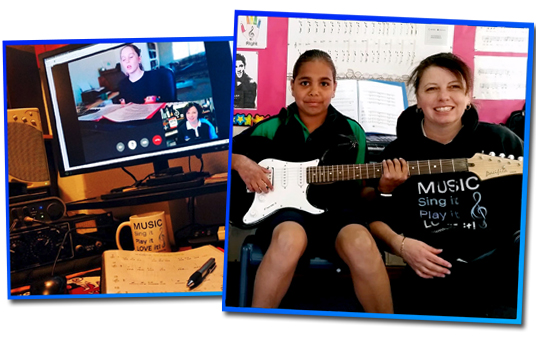 FEBRUARY 2020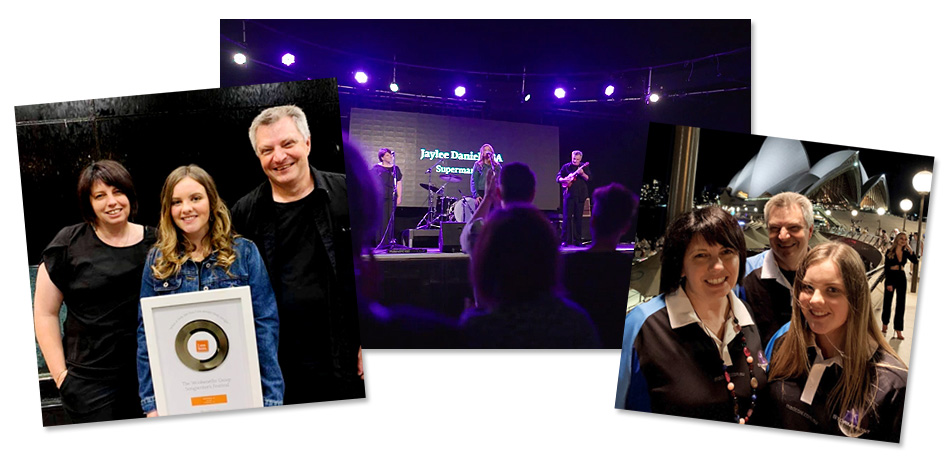 Mark Tempany and Alison Hams were proud to accompany
Whyalla Recording Scholarship Winner Jaylee Daniels
to Sydney for her Grand Final appearance at the
WOOLWORTHS SONGWRITERS FESTIVAL.

Centre photo:
Onstage at legendary MAX WATTS in Sydney's Entertainment Quarter.